Swimming Pool Cracks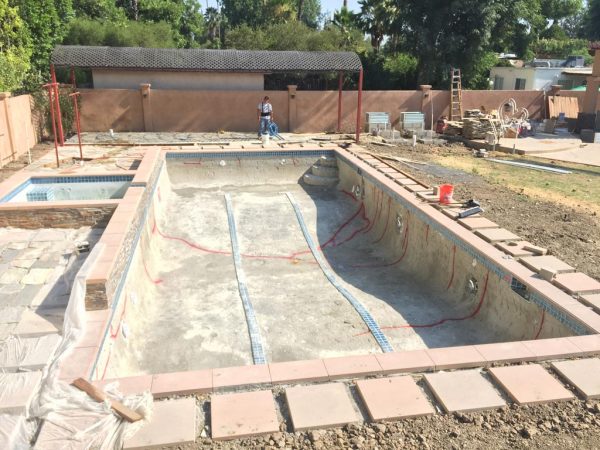 Darren Merlob, Owner of Caltech Pools, invented Torque Lock Structural Systems in 2005. Swimming pool cracks can appear in the floor and wall tiles of the pool. Pool leak repair involving cracks in the pool structure has long been attempted by injecting repair cement or epoxy into the crack. This method of sealing pool water leaks has often been short-lived and unsatisfactory, as cracks in pool concrete are dynamic and continue to widen with the passage of time.
Eventually, the widening crack fractures the epoxy or cement repair and the swimming pool leak resumes. The Torque Lock Staple technology invented by Caltech Pools has solved this longstanding problem of pool crack repair.
For many pool companies in the United States and abroad, Torque Lock has become the pool crack repair gold standard to remedy pool water leaks associated with masonry cracks. So effective, in fact, it's now used in many concrete structures outside of the swimming pool industry.
How we Repair Pool Cracks

Our Torque Lock system consists of a series of metal staple brackets with two pins, installed into recessed slots which bridge the crack causing the swimming pool leak. We call this method "stitching", as visible in the image above. After coating the marked pin holes with epoxy, the staples & pins are driven into the masonry to secure the staple in it's recessed slot. The pins are then rotated less than 180 degrees to apply torque to the staple and permanently stabilize the crack.
Call Today for a Free Pool Crack Repair Consultation (818) 436-2953

"I had a 15 foot pool crack that was fixed three times in the past. Three years ago the pool repair company used the Torque Lock staples and the crack is fixed and never bothered me again. Great product! Works just like they say!" –
To whom it may concern.

When going out for bids for a large pool and deck project, I must say I got quite confused from all the different things that people were telling me. When you came along with your literature and sample boards, it all made sense. The pool is located on the 4th floor above a parking garage which has considerable movement.

Why would I want to glue (epoxy inject) those cracks if I can insert your Torque Lock™ staples which provides zero movement? So far, so good. It's been 2 years now and the Torque Lock™ staples have proven to be the best yet! Thank you for your marvelous idea. Our association members are all very, very happy and comfortable knowing this will not happen again!
Dear Darren,

Just wanted to drop you a note to say thank you for a job well done. After having my pool built 4 years ago by another company, we've had problems ever since.

About 6 months after the pool was built we developed a major structural crack that the builder repaired 3 times. It seemed that they just couldn't get it right. Then you came along. It's been 2 1⁄2 years now with no crack coming back.

I wish you much luck with your Torque Lock product. You deserve it.

Thanks again!
Dear Darren,

We were initially told that there were too many cracks in our pool — that we needed to pay for a new pool, which would have cost us well over $30,000.

We gave up for a while because we couldn't come up with that much money. Luckily we came across your company when you resurfaced our neighbors pool. They highly recommended you to us. Ironically, you had a product that could fix structural cracks similiar to ours and the cost was reasonable as well.

We were amazed how quickly and efficiently your crew worked on our pool. Not to mention your product, Torque Lock™, really works! There are no more water leaks in the surface of our pool. We can finally enjoy swimming there. And our pool is almost as good as new!

Thank you so much for your professionalism and remarkable services.