We can't stress it enough, and whether you choose CalTech for your leak detection or not, there are a few things as a consumer you want to take note of before calling for services. It's more than just whether or not your service provider will answer the phone.
Many people search the phone book and just call a local provider. We suggest you take a look at their website. Some questions you want to ask should be clearly defined on their website before you call
Are they licensed to provide services in the state where you live?
A contractor would make their state license available immediately on their website, and it should be verifiable. Ours is on the front page, where it should be.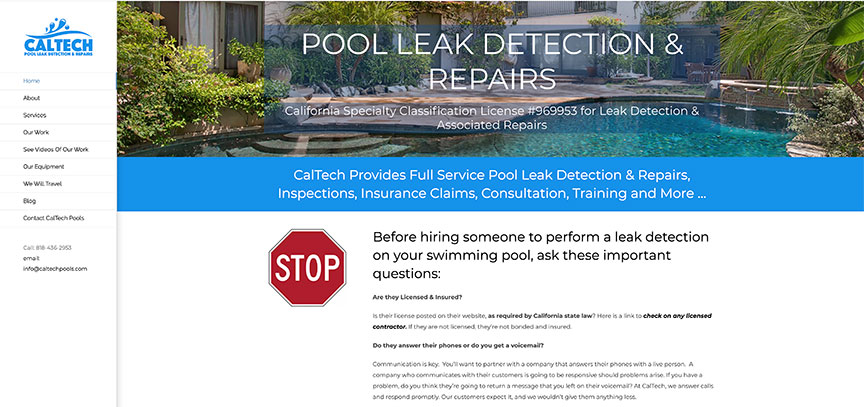 Is your contractor insured?
Should something happen, unexpected, and damage occurs. Is your chosen contractor prepared to be responsible for it? If they aren't licensed, there's a good chance they aren't insured either.
Is their phone number right there where you can see it?
Having a direct line to your contractor, or their office, is important. When time changes arrive, when you simply have questions – these things must be addressed. Then there is a big question …

Do they answer the phone when you call?
Just having a number available doesn't mean they're going to take your call when it comes in. If you find you have to leave messages and wait for a response, choose another contractor. If you have a problem with the work, something was overlooked or the workers didn't show up at the planned time – can you reach them? Are they answering your call and giving you the answers and information you need to know?
Call CalTech. 818-436-2953. During our service hours, calls get answered because you have questions. To provide the best quality service you need to ensure your pool is secure, you need to be able to reach us, and we're here to take that call.
If your location is in the San Fernando Valley, lower Ventura, Simi Valley, Beverly Hills area or Malibu area, you are our customers. You aren't going to find a more experienced service provider and we're prepared to back that up.
Call CalTech today and schedule a leak detection to find any and all leaks in your pool and prepare to get them repaired. Check out our blog and YouTube page to see other work we've performed and above all, visit our website to see our license information, telephone number and service area. Call at any time with questions.