Winter is upon us in Southern California, and unlike the rest of the country, we aren't putting covers on our pools. There is, typically, less pool use during the colder months, but with water heaters, warm spas and the pool uncovered, it still gets use. With less use, you might notice now, leaking is occurring that you didn't see when people were in and out of the pool all summer. Don't overpay for water use during the winter. Get your leak detection now.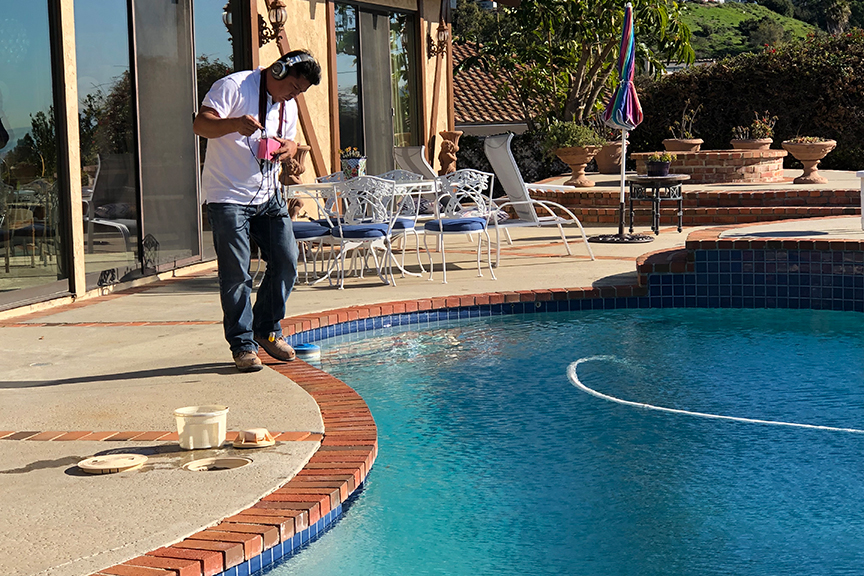 With autofills working properly, pools don't necessarily show levels dropping. You might, however, notice you're paying a little more than normal for that water bill, and it could be due to a leak in the pool. A proper leak detection is going to let you know where that water is going and if repairs need to be made.
At CalTech Pools, we use the LeakTronics Swimming Pool leak Detection Kit to find leaks. Owner Darren Merlob is more than just the top rated leak detection and swimming pool expert in the country, he is also the inventor and manufacturer of LeakTronics leak detection equipment. Designed to be non-invasive, CalTech can find leaks in under an hour and when repairs need to be made, we can arrange for the best options to ensure that your pool doesn't leak, and when summer comes around, your pool is fit to be the source of enjoyment you look to on every sunny day.
When our technician arrives at your pool, it's best to have the pool filled to it's normal operating level. We perform static listening, which means the equipment isn't running and the pool is "quiet." We use sensitive hydrophones, microphones designed by LeakTronics to listen inside the pool water. These hydrophones will hear the sounds made by leaks anywhere in the pool. The weight of the water pushing out of leak makes a whooshing noise. We are able to accurately identify the precise area where water is escaping the pool and can recommend the best methods of repair to stop the leaks fast, and permanently.
To schedule a leak detection for your property in the San Fernando Valley, Simi Valley, Malibu or Lower Ventura – call 818-436-2953. If you're outside our operating area, call us anyway. it's likely we can recommend a professional who uses LeakTronics non-invasive listening equipment, or someone who has trained in the art of leak detection with us.
If you're looking for a professional in your area, click here to see a map of LeakTronics equipment users who can perform a leak detection on your pool or spa.