Leak detection and water loss repair is an essential service that customers require, even during the Los Angeles Covid 19 lock down. At CalTech Pools, we take the health and safety of our customers and employees seriously, and we continue to provide our services with consideration of that fact.
When arriving at a customers location, our technicians will make every effort to be compliant with Covid 19 regulations that best protect the customer. This includes the 6-foot social distancing rule and minimal contact with anything that our customers will handle after we're gone.
To help facilitate the process of performing a customers leak detection or repair, we ask our customers to aid in this process by adhering to basic practices and good judgement.
Our technicians will have to access your property. Please make access to your pool available through the yard, by a side gate, or through outside access.
Please give our technicians space. We can answer questions and if necessary, discuss any immediate concerns, but expressing those concerns on the phone before we arrive is fine. We ask that the customer doesn't engage in casual conversation during the job.
A complete explanation of our findings will be provided after the job is performed. We ask that the customer doesn't stand beside our technicians while they perform their job.
Please don't handle any of our technicians gear or equipment while they are on the property.

Please keep all pets indoors while we are on the property.
For the safety concerns our customers have, we will:
Wear a protective face mask at all times when we are on the customers property.
Wear protective gloves when touching the customers pool equipment, gates and door handles.
Distribute all findings reports and receipt of payment for the job electronically.
Abide by all state and federal recommendations to minimize contact or transference during the job to best protect the health and safety of our customers and our technicians.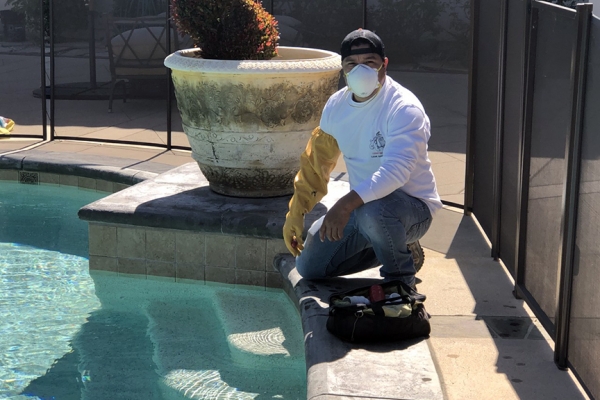 We are prepared to take service calls and our service technicians are aware of all the Covid 19 requirements necessary to do the job right and to maintain safety guidelines that protect everyone on the property. If you are losing water in your pool, we know the concern for that water loss is important to you and we can help. Don't hesitate to call and schedule an appointment for your leak detection, CalTech Pools is open and providing services during the lockdown.
If you have any questions regarding how leak detection service calls will work for your pool, call us today at 818-436-2953.