There Is A Right Way To Hire A Leak Detection Company
It boils down to this, do the research before making the call! Grabbing the first name in the phone book or going with the cheapest price is dangerous when you're hiring a professional to find the leaks in one of the biggest investments on your property. Pool leaks are nothing to take lightly, and hiring a professional, with experience, modern equipment and a proven track record is going to save you time, spare you stress and potentially save your pool.
I can't count the times I have followed another leak detection company onto a job to do the work they charged a customer for. It's got to be 75 percent of the jobs I do. A customer calls a company and gets a low price to find the leaks in their pool, and they go for it. In the end, if they do find a leak, they stopped when they found one and other leaks existed. They showed up at the pool with a scuba mask and a pair of flippers, or half the time, they didn't show up at all – rescheduled a couple of times and simply blew the customer off. A number of times I get a customer giving me the report from the other leak detection company and it's all wrong, misleading and doesn't actually diagnose any of the issues with the pool.
In my daily work, I provide extensive and detailed leak detections for customers. I manufacture the industry's most advanced and non-invasive leak detection equipment and I train leak detection technicians from around the world on how to be effective when getting the job done right. I own CalTech Pools, the leading leak detection company in Southern California, I own LeakTronics – creating the most advanced technologies in leak detection, I have patented the Torque Lock Structural Staple – the only structural repair product of it's kind with the lowest failure rate of any product in the world and above all, I answer the phone when customers call. That's a key point.
If you call a leak detection company for service and get an answering machine, they aren't going to call you back. If they answer a personal cell phone, surprised that someone is calling for service – they aren't a professional leak detection company. The majority of these "professionals" aren't verifiable with the California State Licensing Board, they don't have an online presence that display work they've done for satisfied customers, have no references and they don't have the equipment to do the job effectively. There is no wonder that they charge 1/3rd of the average price to perform a leak detection. They're barely doing 1/3rd of what the job requires to find and stop leaks in your pool.
STOP! Ask these three questions before calling a random stranger for service.
1. Are they licensed? Is their license posted on their website, as required by California state law? Are you going to trust a company that isn't licensed to do work that requires having a license before they set foot on your property? You can verify their license here: CSLB.
2. Do they answer their telephone? Do you go directly to voicemail or get someone's personal cell phone message? Are they a company or a guy with a bottle of dye and a wetsuit? If you can't get a live human being on the telephone, you can't count on a call-back, and while you're waiting for someone to call – your pool is still leaking.
3. Do they have a physical business address? Are you actually calling a company or just someone who has tools in the back of their truck, or in the garage? You aren't talking about having leaves blown off your front lawn – a pool is in investment that when improperly repaired, can cost you thousands of dollars. You don't want to trust your wallet to a fly by night, part time handyman who dabbles in pools. They should have a company address, verifiable, local and easy to contact for any information.
At CalTech, our work speaks for itself – but as a customer, we want you to know the reality of hiring a company to find your pool's leaks and make repairs. The expense of going with a low cost service provider is exponential. By missing areas where damage has occurred, the time spent waiting for answers and the cost of having to call for a second or third leak detection when the first company claimed the job was done just piles on to the expense.
We can guarantee that when we perform a leak detection, any area where water is escaping will be identified. The pool will have a complete and proper leak detection performed – the entire pool environment. The need for repairs will be clearly identified and we will, in most circumstances, be able to provide a price quote for performing repairs. Once you've hired CalTech, we will see the job through and be a phone call away to handle your concerns, answer questions and get the job done right.
If you are experiencing water loss today, call us. 818-436-2953. We will perform a leak detection and ease your concerns as to why you are losing water and what it takes to make it stop.
REVIEW SOME OF THE RECENT LEAK DETECTIONS WE'VE PERFORMED
Leak Detection – Beverly Hills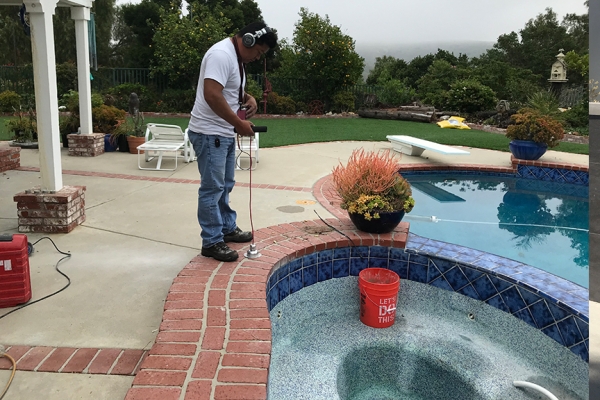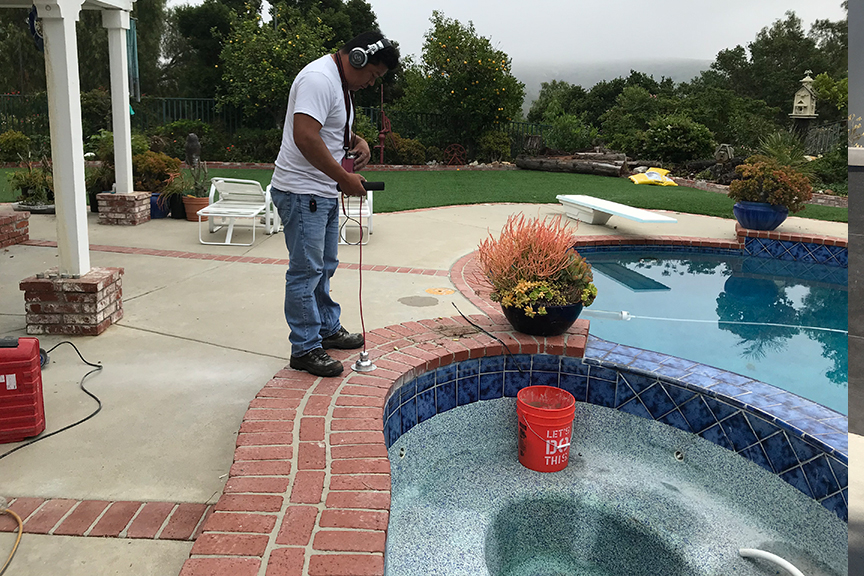 Leak Detection – Woodland Hills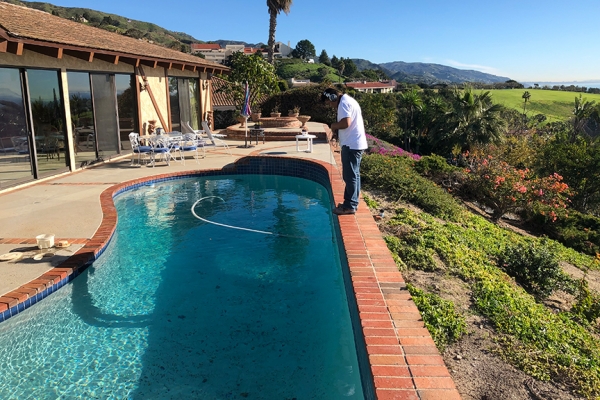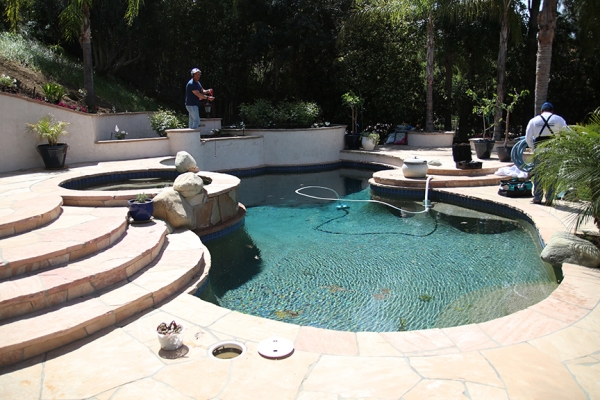 Leak Detection – Hidden Hills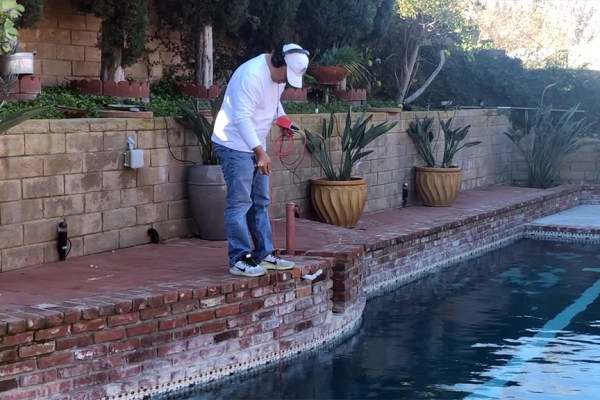 Leak Detection – Woodland Hills
REVIEW SOME OF THE RECENT REPAIR WORK WE'VE PERFORMED
Complete Structural Crack Repair
Slot Drain Repair – Encino