Broken pipes, concrete cracks, water loss, pool and spa damage; it's all unnerving and it finding a professional to help can sometimes feel like a guessing game. When hiring the right leak detection company in Southern, CA, it only stands to reason that you would hire a company with experience in all facets of leak detection service and repair. That's CalTech Pools. Here's why:
CalTech Pools founder Darren Merlob is a veteran in the pool industry. With more than 30 years of experience in pool construction, pool plastering, pool repair and pool service, if there is an issue with your pool, spa, water feature, equipment or pool environment – not only has Darren experienced it many times before – he's also fixed it many times before on another pool.
What's more, the art of accurate leak detection relies on a few constants to get the job done right. Modern equipment with the latest technical advancements, proven methods to use that equipment, and years of customer service that ensures your concerns are met with care and understanding.
CalTech Pools founder Darren Merlob offers residents of the San Fernando Valley through Lower Ventura Country, Beverly Hills out through Malibu and into Simi Valley the professional service arm of his company. What the company also provides is the equipment to find leaks and the tools to make structural crack repairs.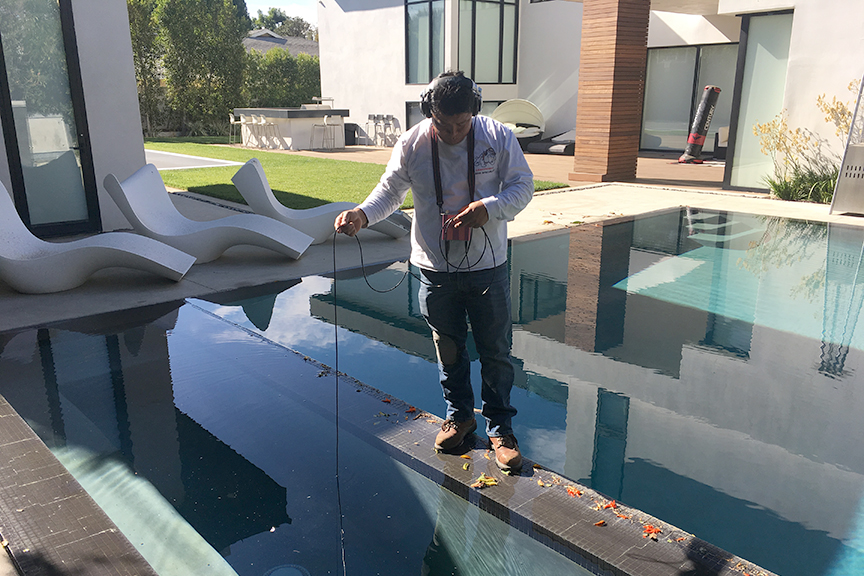 Performing a non-invasive leak detection.
LeakTronics is the manufacturing end of Merlob's company. Through LeakTronics, Darren has taken years of research and development into how and why pools leak and developed the world's leading leak detection manufacturing, distribution and training facility. LeakTronics has developed the Pro Complete Leak Detection Kit, used by leak detection contractors around the world to find leaks in pools and plumbing under any circumstance. LeakTronics has also trained thousands of professionals globally in the best methods of performing leak detections both fast and accurately, stopping water waste in homes and commercial properties with the equipment LeakTronics manufactures. Providing the only complete online learning program available for professional certification, thousands of professionals the world over built their success by training with LeakTronics on how to provide the professional leak detection services customers rely on to supply their needs.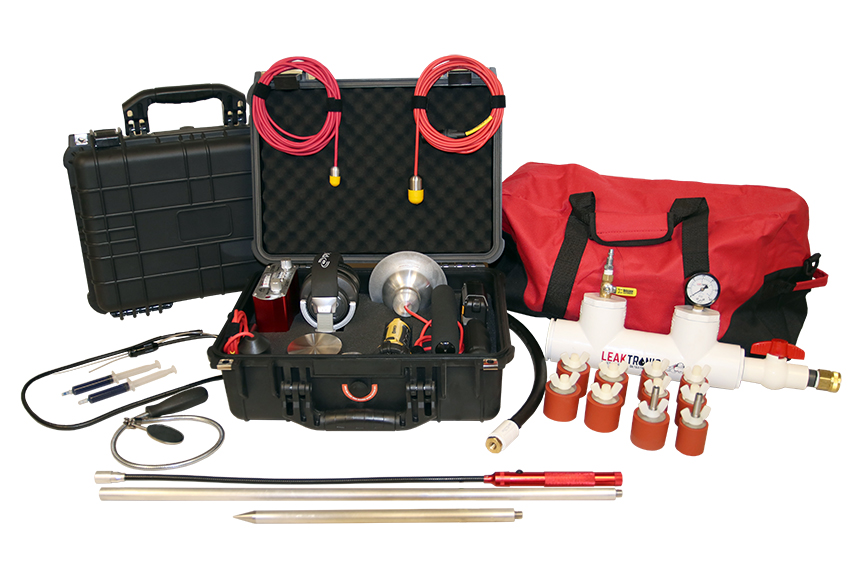 The Pro Complete Kit from LeakTronics
Merlob took the experience of repairing structural cracking and designed a patented structural staple that ends structural cracking and saves structures that might otherwise be demolished by inexperienced contractors. The Torque-Lock Structural Staple is the only post-tension controlled-compression staple on the market and offers a proven relief to structural crack damage, stopping cracks and ending damage due to water loss, ground movement, aging infrastructure and poor craftsmanship. With its patented design and method of installation, Torque Lock has become the only trusted application for professional concrete and pool repair contractors on 7 continents to permanently end the spread and growth of crack damage and to save pools from utter destruction.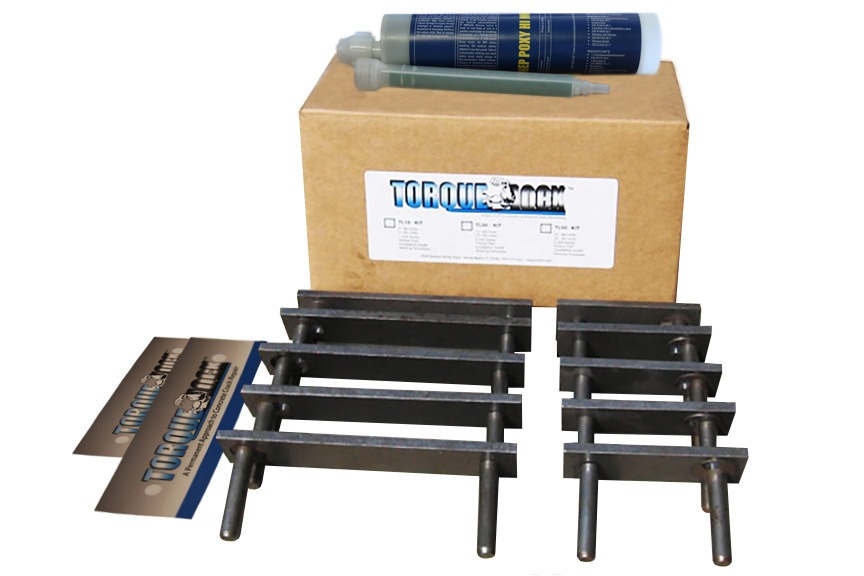 Torque Lock Structural Staple Kit
Darren Merlob has provided services on some of the most well known water bearing projects on the planet. From the world's largest swimming pool in San Alfonso Del Mar, Chile to some of the most expensive artistic installations including the Fire Fountain at the Bilbao Guggenheim Fountain Pools. While size options change on structures, finding leaks and the reason they exist requires the same leak detection techniques to accurately identify where and why leaks happen and to advise on the best methods of repair.
When you're hiring the right leak detection company in Southern California to find leaks in your pool, it makes sense to call the only company that has all aspects of leak detection and repair under one roof. Call CalTech Pools today to schedule your leak detection and end the expense and waste caused by water loss in your pool now.
CalTech Pools: 818-436-2953.