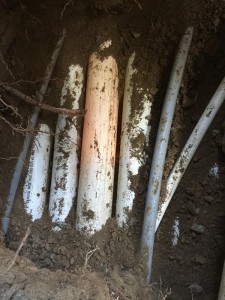 Upon performing a recent Woodland Hills leak detection on a pool / spa combo, we were able to narrow the leak down to the line.  When we began excavating the area for the repair, we found there were multiple lines in the same trench.  This would be a dilemma for most, but not for Caltech.
Caltech Pools has state of the art cameras with LED lights that shine so bright, we were able to locate the leaking pipe by using the camera.  The leaking line with the camera head inserted in it is the one that appears to be a different color (peach) than the rest of the lines.
Moral of the story:  Specialists in the field use special equipment making their work more accurate than those who do not.