We can't begin to tell you how many calls we take from homeowners in various cities asking if we need to pressure test to perform a pool leak detection. Our response is always the same……"If necessary." This answer peaks interest, which leaves the customer asking us to explain what makes us different than other leak detection companies in the valley.
95% of all swimming pool leaks are located within a 3 foot radius of the actual pool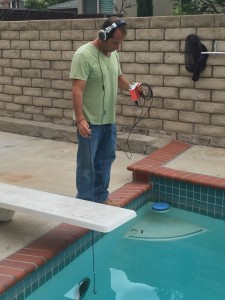 Changing the way swimming pool leaks are located, LeakTronics Leak Detection Equipment makes it no longer necessary to get into a pool to locate a leak.  Pressure testing is no longer the only option. It all starts with fact gathering. Then when we arrive to perform the pool leak detection, the next step is to prelocate the leak with the LeakTronics Pool Scope.
By holding the Pool Scope in front of an open line, we're able to prelocate a leak in a line. When we know which line is leaking, it's time to get out the Pipe Mic. (Sorry, not time to pressure test yet.) The Pipe Mic is small enough to fit inside lines to get you closer to the leak from inside the pipe. The noise is loudest at the point of the leak.
If we aren't able to pinpoint the leak with the PipeMic, NOW it's time to pressure test. LeakTronics Pressure Rig contains a mixing chamber to mix air and water to create a boiling noise at the point of the leak. When the line is under pressure and we use the LeakTronics hard contact DeckPlate or Soil Probe to locate the leak under the patio slab or grassy area, the closer we are to the leak, the louder the noise will become. When we reach the loudest area, "X" marks the spot!