Resistance from a seller to allow for a swimming pool inspection should raise a BIG RED FLAG!
A good example……….
After receiving a call from a potential buyer to perform a swimming pool inspection and leak detection at a location in Sherman Oaks, we called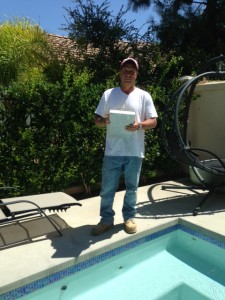 the sellers agent who gave us the sellers phone number. Five calls later (with no return call) we called the sellers agent again to make them aware.  We finally received a call back from the seller who made scheduling a nightmare due to three demands:
She wanted the swimming pool inspection to take place at a very specific time and day,
She wanted her pool maintenance guy to be there, and
She wanted to know about all of our methods and procedures.
Now I can understand demand #3 however, the seller needed to realize that her behavior was basically telling us that there was something (such as a swimming pool leak) which she knew about and was trying to hide.
Upon arriving on our scheduled day and time, I was greeted by the homeowner, her realtor, the pool maintenance guy, the potential buyer and their agent.  While I handed my card to everyone, I asked the pool guy for his card.  He didn't have one.  I then asked him if he was licensed.  He wasn't and at that point he decided to leave.
To make a long story short, we found 2 structural cracks approximately 25 linear feet in total and a leak in the main drain line under the skimmer.
This is not the first time that we've had a difficult time trying to set up a swimming pool inspection.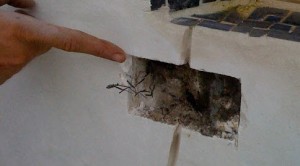 With all of the Oak Trees in Thousand Oaks, it's no wonder why sellers don't want their swimming pools inspected.  Roots of Oak Trees are notorious for seeking water and finding it at swimming pools.  Caltech Pools once performed an inspection for a potential homebuyer in Thousand Oaks and found roots penetrated through a concrete structural crack in the swimming pool.
Lesson to Learn…………..the typical seller will usually be open to a swimming pool inspection with easy terms IF they don't have anything to hide.
Caltech Pools performs Swimming Pool Inspections and Swimming Pool Leak Detection for potential homebuyers in Calabasas, Agourra Hills, Westlake Village, Encino, Thousand Oaks, Los Angeles, Malibu, Pacific Palisades, Santa Monica and other cities in Los Angeles and Ventura Counties.  We'll go the extra mile to help you obtain a swimming pool leak detection and inspection and will provide you with a written report of our findings as well as estimates for the necessary repairs.